Ramblings of a Linux Administrator
Like most geeks it seems (particularly Linux geeks), I run a blog that details my everyday blights with technology. I've called it Ramblings of a Linux Administrator for a reason- most posts are made late at night, and they are about one problem or another that I've solved using Linux. Plus, the latest updates to tutorials and articles that I have written are usually posted on my blog. So, if you're into that whole blogging thing (don't worry, it took me quite a while to swallow my pride and get one myself), feel free to check it out.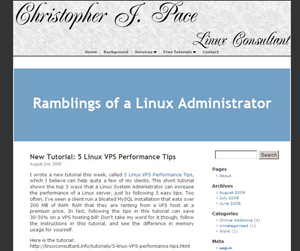 Although it isn't very fancy, it's located at http://remote-linux-support.com/blog/.